I recently posted a video on my new channel about how I care for my skin. I couldn't go into too much detail there because videos are supposed to be a condensed version of what you may find on my blog. It's here that I get to be a wordsmith and elaborate on what I could not orate via YouTube. The products I use regularly are listed below, along with the benefits I see after utilizing each product.
Hydrogen Peroxide
I'll admit this one isn't for everyone, and you shouldn't use this everyday, but I use it every other day to rid my skin of additional bacteria that my cleanser may have missed. The great thing is that it foams so you know it's working on all those nasty little buggers trying to break out your face. The body actually produces hydrogen peroxide through white blood cells as a first line of defense to bacteria.
Neutrogena Stress Control Toner
Ever used a toner that just made you say "ahhhhh" after putting it on your face? Then this one is for you! This is by far the most refreshing toner I have ever used and it works perfectly with my crazy stressed, hormonal skin! As we know I love my foundation, and this stuff gets any residual dirt my cleanser might leave behind. The best part is that it treats both active breakouts as well as emerging.
Boots Expert Sensitive Gentle Cleansing Wash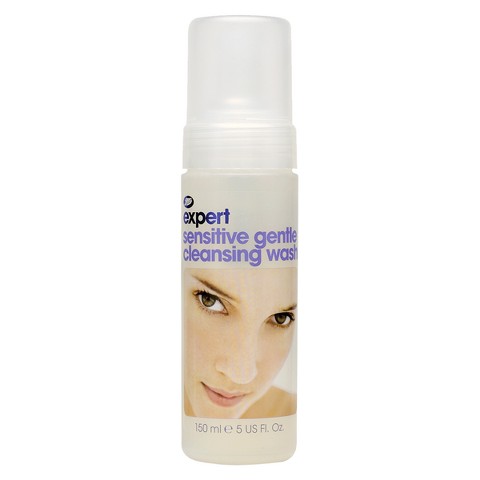 If you haven't had the chance to tune into my video, then you don't know that I have very sensitive, very oily skin. I discovered Boots Expert Gentle Cleansing Wash after watching another fellow acne prone, sensitive skin YouTuber's video, JoshCollierMUA. Josh's skin is dry so I was skeptical on this one, but it really works! It's a light, airy foam that penetrates the skin to deep clean and makes it feel soft and nourished. It also doesn't have much of a smell which is great because some of us have faces that don't agree with fragrances!
Queen Helene Gentle Oatmeal n' Honey Scrub
In a world where one has plenty of options when it comes to facial scrubs, this $3 one by Queen Helene is bae!; for me anyway. I love this stuff! It smells yummy and oatmeal calms skin irritation and redness; not to mention honey is a pre-biotic that stops yeast and bacteria from flourishing. Yay for honey!
Queen Helene Mint Julep Masque
Sure you look like a creepy, little green martian when you put this mask on, but that is what pamper nights are for. You may look funny, but there is nothing funny about this powerful and inexpensive mask that draws out impurities with mint and sulfur. If you've got a "friend" that recently has taken residence on your beautiful countenance send him packing with the Mint Julep mask!
Freeman Clay Mask | Avocado & Oatmeal
This one happens to be green too but I promise it is worth looking like the Jolly Green Giant to have gorgeous skin! The bottle even says "purges pores". It is a lot more mild than the Mint Julep mask and if you aren't partial to the mint smell this is a great alternative. I love it for a nice switch up, because as we know our skin gets used to things, and once again it contains oatmeal which is fabulous for my irritable skin.
CVS Oil Free Moisturizer with SPF
PHOTO UNAVAILABLE
An awesome dupe for the more pricey Neutrogena moisturizer; I use this on my face every single day. It has light SPF so you don't get that awful flashback in photos, but you still get the benefits of protection from the suns rays. I say that's a win!
Pond's Clarant B3 Cream
Because all of us cannot afford those fabulous lightening/whitening creams from Shiseido; this Pond's cream is an amazing alternative. The price tag is also considerably smaller at just $4.98 at your local Walmart. This heavy cream packs a punch when it comes to moisture so you should use it at night when your skin is at rest and not exposed to the elements. As an added bonus this bad boy lightens and fades hyperpigmentation. Just be sure to stay out of the sun if you do wear this during the day as it will be counterproductive.
That about wraps up my laundry list of products! I hope you guys will check out my new channel and continue to support me there as well. Thank you for all you do! xo