Hey y'all! So I don't know about you but I've been wracking my brain trying to figure out what to give as gifts this holiday season! If you follow my blog then you're probably a beauty junkie like me, and so are your friends. I thought I'd put together a helpful gift guide for the special people in your life. I did not post any items that I would not purchase (or haven't already tried) myself; so if they aren't your cup of tea that's okay! Low on cash…don't worry I threw in a DIY option as well! 

Sephora



Soap & Glory Luxe Beginner's Set: $30 | This set contains: 
– 2.5 oz Clean On Me™ Shower Gel 
– 1.69 oz The Scrub of Your Life™ Body Buffer 
– 10.1 oz The Righteous Body Butter™ 
– White exfoliating gloves 
– Cosmetic bag
Obsessive Compulsive Cosmetics Lip Tar All Star Mini Set: $20 | This set contains:
– 0.08 oz x 4 Lip Tar in Memento (pink plum neutral), NSFW (primary red), Anime (vibrant neon pink), Black Dahlia (blackened red) 
– Short-handled precision brush 
Clinique Party Favours: $39.50 | 
This set contains:
– 0.14 oz A Different Nail Enamel in Limited Edition Cosmo Chic 
– 0.50 oz All About Eyes 
– 0.17 oz All About Shadow Quad in Chocolate Covered Cherry, Raspberry Beret, Hazy, Limited Edition Pink Shade
– 0.10 oz Chubby Stick Intense Moisturizing Lip Colour Balm in Limited Edition Roundest Raspberry 
– 0.28 oz High Impact Mascara in Black
– 0.01 oz Quickliner For Eyes Intense in Intense Black Honey 
– Zippered fold-over cosmetic bag
Sephora Collection Holiday Light Show Brush Set: $68 | 

This set contains:
– Black acrylic stand
– Powder brush
– Foundation brush
– Face contour brush
– Crease brush
– Shadow brush
– Slanted eyeliner brush
Ulta
Urban Decay Black Market Slide On Glide On 24/7 Pencil Set: $24 | This set contains:
West* (dark brown pearl), Desperation (deep taupe-gray matte)
Black Market* (charcoal black satin)
Riot* (smoky purple shimmer with violet micro-sparkle)
Apathy* (metallic olive green shimmer) and Ink* (deep navy blue satin).
Essie Winter 2013 Collection Mini Cube: $17.00 | This Set Contains:
Shearling Darling
 is a rich plush ebony red.
Mind Your Mittens
 is a deep, double diamond black teal.
Toggle To The Top
 is a sparkling crushed garnet red.
Sable Collar
 is a luxurious pearlescent cocoa plum.
Philosophy Miracle Worker Trial Kit: $40 | This Set Contains:
miraculous anti-aging lactic acid cleanser & mask 3 oz.
miraculous anti-aging retinoid pads 15 ct. 
miraculous anti-aging moisturizer 0.5 oz.

 
The Body Shop Coconut Gift Set: $15 (Target also has this set online for $10.50 and comes in multiple scents) | This Set Contains:
Coconut Shower Cream 2.0 oz
Coconut Body Scrub 1.7 oz
Coconut Body Butter 1.69 oz
Sally's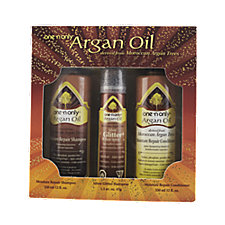 One N' Only Argan Gift Set: $28.57 | This Set Contains:
Argan Oil Glitter Hair Spray.
Got Money to Blow?? High End Options
Urban Decay Naked 3 Palette: $52
Makeup Forever HD Complexion Starter Kit: $79
Prada Candy Giftset: $115
Alpha Girl Remy Human Hair Extensions (20″): $197